Dr. NO's was founded back in 1977. Cliff and Ward took over the store in 1982, and the rest, as they say, is history. Currently, the store is solely owned by Cliff, who has as much enthusiasm for comics today as he did when he was growing up and creating his own fanzines (look that one up kids.)
In our time, we have carried a little bit of everything before deciding to focus on the comics and games side of things. We are currently the largest comics and games store in Cobb County and have the largest trade paperback collection in the south.
Key Employees
Cliff
Owner of Dr. No's Comics and Games, Cliff can be elusive to find at the store at times, but he is always pleasant when found. His knowledge of the comics industry is amazing, and his ability to multi-task is second to none. Contact Cliff
Buck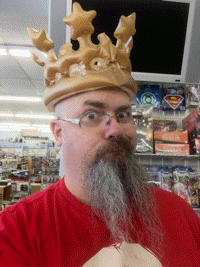 Store Manager and Games Manager of Dr. NO's. Buck is the vivacious, entertaining, aide-in-arms to the store. He is the master of the special order, and goes to great lengths to ensure that customers get what they deserve--in a good way. Contact Buck
Sage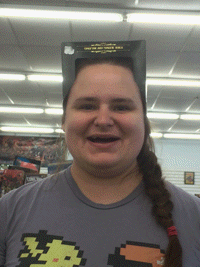 Comics Manager Sage is the person to talk to about what you should be reading! Since joining the Dr. No's crew over 2 years ago, Sage has become super knowledgeable about the goings on in the comics. Her knowledge of Magic the Gathering, Pokemon and other games games on the go makes her a well rounded source for info at Dr. No's! Contact Sage
Tom
Weekend Manager of Dr. No's. Action figure movie director. Movie nut. Has a different view of the world at large. Master of Magic: the Gathering and avid collector of... just about every card game imaginable. Tom also has an eclectic taste in his comics so he can help a customer find the out of the way titles.
Jason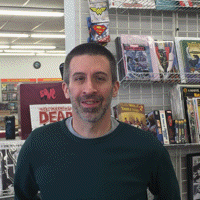 Jason brings with him an extensive source of knowledge of Marvel Comics. Jason is the grand organizer of the backstock inventory, so if you are looking for an older issue or a recent issue of your favorite comic, Jason is your man.
Matt
An avid Bat-family fan, Matt's brings to the table an outstanding knowledge of superheroes and a warm, welcoming attitude that will make anyone feel at home. If you're looking for a new story to dive into, Matt will be the man to find it!
Amber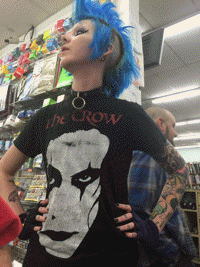 Inexplicably friendly and reclusive, soft-spoken Amber has a passion for indie comics, reptiles, tattoos and cool hair. Super helpful when you need to find something a little different, and maybe just a bit creepy, Amber is the one to help!
Jenni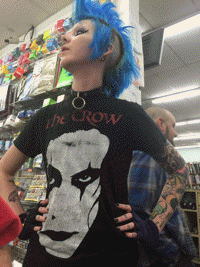 Jenni comes to Dr. No's with oodles of backstock comics experience; she also has absorbed immense Star Wars knowledge from former Dr. No's comics manager Jared, to whom she is married. She has an enviable ability to remain calm and organized in the face of chaos- a useful skill in the comics biz!
Dr No's FAQ
Where did you get your name?

Dr. No's is named after the first James Bond film and novel. When first opened, the central theme was James Bond collectibles. We've changed focus, but we still have a few Bond odds and ends left.

How long have you been open?

Dr. No's has been open since March of 1977.

Didn't you guys used to be somewhere else?

Actually, yes. For the first 8 months that the store was open, Dr. No's was about a mile from its current location. Since then, we have been in the same spot here in Blackwell Square.

Didn't you guys used to be smaller?

You are remembering correctly, Dr. No's used to be half of the size it is now, but was able to expand to its current size in July 2004.

Do you have _______________ trade paperback in stock?

We have in excess of 20,000 individual collected editions in stock and if we do not have it, and it is in print, we can most likely get it for you!

Do you have other locations?

For a short time, there was a second Dr. No's at the corner of Terrell Mill and Cobb Parkway. But is has long since closed (and if you've kept up with the crime statistics for that area of Cobb County, you might realize that's not such a bad thing...).

What are your store hours?

Monday through Saturday from 11:00 am till 8:00 pm and Sunday 12:00 noon till 6:00 pm. We're open 365 days a year.

Your OPEN on Christmas!?!

Yes, Dr. No's is open on Thanksgiving Day and Christmas Day! We are open from 1pm - 6 pm.

Does Dr. No's have a subscription service?

We do offer a subscription service to our local customers. Click Here to email us for more information.

Do you carry video games?

No, Dr. No's has chosen to focus our attention to the type of games that you may not be able to find at the "big box" retailers.

I am going out of town, can I get you to hold a couple of titles for me til I get back?

With our new Prepaid Preorder system, you can purchase any comic, t-shirt, or toy ahead of time; when the item ships, we will pull it for you and hold it for up to 1 year.

When is Free Comic Book Day?

The first Saturday in May, so mark your calendars!

Are all the comic books free that day?

Many of the publishers publish unique editions that are exclusive to Free Comic Book Day. These special "Free Comic Book Day" editions are the ones that are free. In addition to the free comics we usually have special guest writers and artists here doing signings.

Special guests? Explain further!

Well, in past years we've had superstar writers and artists like Mark Bagley, Joseph Michael Linsner, Paul Jenkins, Brian Reed, Tom Fiester and more! Check our site closer to the day to find out more!

What is a Phantom Variant?